Okay, so here is maybe the fastest fanfiction I ever wrote! I started it today, after seeing this icon
(Sorry, I don't know who it's by)
Anyway it inspired me to write this short oneshot....oh and of course the awesome Sam/Dean scene from 4x04!!!
Hope you all enjoy, and please remember: Comments are ♥love♥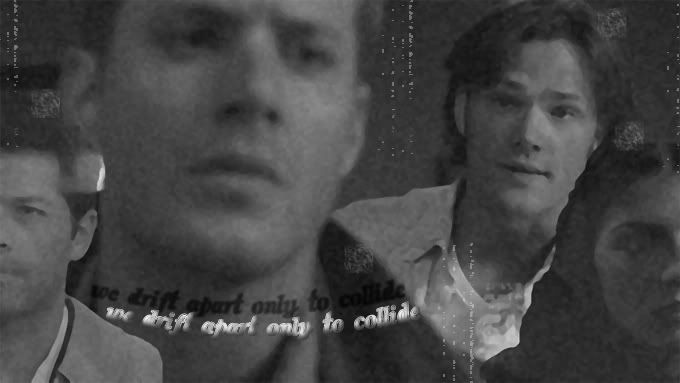 Artwork by
strangefantasy

Author:
wiccaqueen
Title:
We drift apart only to collide
Pairing:
Sam/Dean, Dean/Castiel (implied) and Sam/Ruby (implied)
Rating:
R (I guess...)
Warning:
Spoilers up to 4x04
Category:
Hurt!Sam, Jealous!Dean, Possessive!Dean
Words:
1,648
We drift apart only to collide
"Why did an angel tell me to stop you?
"What?"
"Cas said if I don't stop you, he will. So what does that mean Sam? That means that
God
doesn't want you doing this. So you're just going to stand there and tell me it's all good?"
Sam was biting his lips to keep the tears from spilling. But there was something else too. Above everything his attention was drawn to the fact that Dean had used a nickname for Castiel. Sure, maybe he should be thinking of more important things right now, but the moment he heard it, something twisted in his gut. For some reason he almost felt sick.
"Cas? You're calling him Cas now?"
Sam's tearstained face was filling with anger. "Tell me Dean, how close have you and Castiel become? Is he your buddy now?"
Dean's face was hard, his lips pressed tightly together. Sam could tell that he was ready to explode. Maybe he shouldn't tempt him. He'd already taken a couple of blows, not really anything to hurt, Dean was always careful not to ever really hurt him, but still. He didn't trust his brother in this situation…hell, he didn't trust himself!
"He's an angel, Sam! An angel from God! The one you believe in, remember?"
Sam was torn between crying and shouting. He turned his face away from Dean for a moment, just to be able to catch his breath.
"So you believe every word he says? You trust him?"
Dean moved closer, leaving only a few steps between them. "I don't know what to believe Sammy. I believed I could trust you! I believed we didn't keep any secrets from one another."
A few more steps and he was right in Sam's personal space, breathing on to his neck.
"You tell me what to believe now."
Sam tried to look away again, but Dean reached out and grabbed his face, holding him right there.
"You told me Ruby was dead! And then I find you and her exorcizing together!"
Dean's other hand came up to grip Sam's shirt again. The pain and hurt that had covered his face only seconds before was replaced by pure anger.
"Tell me do you just exorcize demons together? Or do you also have a little fun together? I remember finding her bra in your room when I got back. So you fuck her too?"
Sam had enough! He wasn't just going to stand here taking this shit from his brother! He knew that he shouldn't have lied to him, but this was taking things a bit too far!
"Actually that's none of you business!" he spat into Dean's face.
"I think it is! I think it's my duty to know if you're in bed with a demon Sam! A lying, dirty, slutty demon bitch! Because that's was she is Sammy, just in case you've forgotten!"
Sam shook his head, shoving Dean's hand away. It only lasted for seconds, before Dean gripped him tight again.
"You were dead! You didn't have to live through months and months of pain with no hope…no hope of it ever getting any better…She was there, she helped me."
"Yeah did a real good job at that. You turned her into your lapdog. Tell me Sammy, does it feel good to give her orders? Is that a kink of yours now?"
"Dammit Dean, that's enough!" He shoved him hard, but Dean's hands were still gripping tight in his shirt. They both tumbled and fell on to the floor, Sam pressing his whole weight down on his brother's body.
"Wanna play it rough, little brother?"
"I thought that's what you wanted when you connected your fist to my chin before!"
A spark lit up in Dean's face that Sam couldn't really decipher. Then he smirked and hooked his legs into Sam's. Within a second, he had them both flipped over again, pressing Sam to the hard floor. Sure Sam had the height advantage, but that didn't help him as long as he was lying flat on his back.
Memories of a similar situation came back to Sam. It at been the night Dean had come to Stanford. Only a couple of years ago, but now it seemed like that had been a lifetime ago. So much had changed in their relationship since then, for better or worse.
"Now answer my damn question!"
Sam tried to grin.
"What question?"
"You and Ruby!" Dean stressed every syllable.
"Right that…well like I said, none of your business! Guess it's like with you and
Cas
!"
Dean's face turned a deep shade of red.
"What is that supposed to mean?"
"You tell me! See you always talk about him, about how he comes to visit you in the middle of the night, and how he tells you stuff that you believe. Funny I've never seen him. Which kinda seems to me like you want to keep him for yourself."
"Well if you wouldn't sneak out in the middle of the night to meet that demon bitch of yours, you would've seen him by now!"
Now Sam really had to bit his lip. He didn't know what noise would escape his mouth if he didn't. Dean was gripping his wrist, pinning his arms above his head. There wasn't any real force behind it, but Sam just let it happen. He didn't move, even when Dean pressed his hips down, grinding their bodies together. It was a weird sensation and all of a sudden Sam couldn't think of anything he'd wanted to say only seconds before. Instead he found himself struggling to breathe.
Dean leaned his head down and whispered into Sam's ear: "You thinking of her now? The things she showed you? Of the things she did to you?"
When he pressed his whole body length against him again, Sam couldn't help but let a small moan cross over his lips.
Dean must have heard…and oh God! Right now Sam didn't even know how this all got so screwed up! But he knew it wasn't the end yet, far from it.
"Are you hard for her now, little brother? Cause I can feel your cock pressing up against me. Is it for her? No denying me now."
"No…no…" Sam's breath hitched as he tried to get himself under control.
"It's not for her….not Ruby…"
"So is it just that hot body she's possessing right now? Tell me!"
Sam's whole body shook, as his cock ached to get more friction, bringing his hips up again to grind against Dean's. It was all on pure instinct. The only way this all could end without them killing each other. God it was pathetic!
"It's not for her…for you…all for you."
Dean's eyes went wide, but he didn't move. He didn't say anything either, which only made Sam more and more nervous by the minute.
Just when he thought he might just have ruined it all, Dean leaned down again to let his tongue sweep along Sam's jaw line, before dipping lower and finding the soft skin of his neck.
"Fuck!"
Then there was a hand at his fly pulling his zipper down. Warm fingers found their way into his boxers and wrapped around his leaking cock. When they pulled ever so slowly, Sam nearly felt his whole world black out. He was so damn hard, without really understanding why. The one thing he knew was that it had absolutely nothing to do with Ruby!
"Fuck Sammy!"
Dean's eyes were now locked onto his crotch, where his brother had managed to free his cock for better access.
"Am I prettier than Castiel?" The question came without warning and Dean looked at his brother in shock. But instead of answering, he licked his lips and leaned down to kiss Sam. Their mouths crushed together, tongues struggling for dominance like their bodies had done just minutes ago. When they pulled apart, Dean pulled Sam's lower lip between his teeth to suck at it a last time.
"I want you to come Sammy. Want you to lose it because of me, not some demon bitch. "
Sam still couldn't answer, except for the breathy moans that he now let freely escape his mouth. Then Dean's hand was stroking his cock again, soft but firm, brushing over the leaking head ever so often.
It was heaven and hell all rolled into one. So close to the edge, enjoying every second, but at the same time he knew how fucked up this was. His body didn't really seem to mind about moral issues though as it crept closer and closer to orgasm. The moment he tumbled over the edge, Sam locked eyes with Dean and what he saw there made everything alright.
And then his vision went white and he let his head fall back, while his hot semen spilt over his brother's hand.
When he opened his eyes again, Dean was lying next to him on the floor, breathing heavily.
Sam turned on to his side to look at him. His cheeks were flushed red and his hair was sweaty. It took him a couple of moments to read the signs. When he finally got it, he reached out his hand to cup Dean's crotch. It was wet!
"Dude, you came in your pants! Without anyone touching you!"
Dean tried to look away, already blushing. But Sam touched his face and forced him to look at him. There was nothing to be ashamed about, not after all that had happened today.
He kissed him lightly before Dean could say anything. The kiss was slow this time, less aggressive and more loving and simply perfect!
When Sam pulled away again, he just couldn't resist asking his brother:
"So was that because of Castiel?"
Dean had to smirk, which made Sam's whole face light up.
"No you dumbass. That was all because of you!"
The End
If you enjoyed this fic, please take a moment to comment! All my fics can be found at my
FIC MASTER POST
</lj>
Current Mood:

accomplished