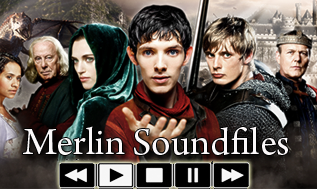 2x13: The Last Dragonlord
We've made it! The last episode for this series :)
And since it's a finale we have quite a few sound files more than normal. I also decided to put these into a chronological order this time, but most of them are Merlin & Arthur anyway. Oh and I also just couldn't stop myself form making a few longer files. Use? No idea. I often just like to put them on my ipod and listen to them just so. Perhaps a few of you guys like to do the same.
Short Files
Night to die
My father
Right to know
Greetings
Redeemable feature
Prat of themselves
Wasn't a prince
Mind your business
Missing Gaius
Feel great
Power of love
Silence blessing
Riddle
Fool
Arrogant
Big Word
Talk
Son
Know what it is
Happy
Sleep well
Yes sire
Tears
Royal backside
How I feel
You did it
Compare with father
Make do
Long Files
Merlin + Gaius 1
Merlin + Arthur 1
Merlin + Arthur 2
Merlin + Arthur 3
Dragonlord Speech
Merlin + Gaius 2
Download all as .rar
Link to all soundfiles
As always I'm still taking personal requests.
Personal Requests
Dragon chant
What happens now? Well it looks like it's haitus till September, but if there are interviews or new behind the scenes stuff that might be fit for soundfiles, I'll post them, so not to worry ;)
And of course I'll ba back for series 3!
Well it looks like that is all for now. Let me take this chance to say a huge THANK YOU to everybody who has left comments to these posts, downloaded and enjoyed them. Without you guys I wouldn't be doing this :)
Thank you and Good Night!
xxx
Current Mood:

accomplished