As some of you know I've been reading the first Merlin novel
'The Dragon's Call'
over the last few days and now that I'm through with it I would love to share some of the good parts.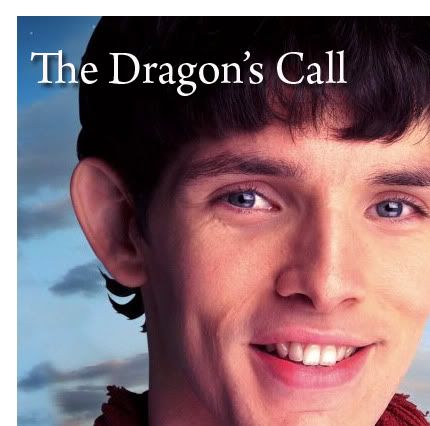 M/A Scenes:
First Meeting
The gang of lads brayed like donkeys. They were still enjoying the show. Merlin turned back to face his would-be tormentor. 'No,' he said, more calmly than he felt.
'Well, I suggest you learn,' came the lad's reply.
Merlin decided the best way to deal with this worsening situation was to grin and laugh it all off. It was probably all bluff anyway. There was no way he was kneeling for this prat.
The lad on the other hand seemed surprised that Merlin wasn't kneeling already.
[...]
The young man drew nearer and seemed to stand taller. Evidently he was about as intimidated by threats as Merlin had been by the hand on the sword hilt. His shoulders looked even broader this close. Despite himself, Merlin stepped back a pace.
'Come on, then...' He beckoned, eggging Merlin on.
Merlin felt his face go hot - only a blush, thank goodness. He mustn't use magic here of all places.
[...]
His voice was close in Merlin's ear. 'I'll have you thrown in jail for that.'
Now Merlin did scoff, through the pain. 'Who d'you think you are - the king!'
After a short pause, the lad replied, 'No, I'm his son - Arthur.'
Prince Arthur. Ouch, again.
Merlin realized with a horrible sinking feeling; he was in deep trouble now.
'On your knees,' Arthur barked.
Merlin felt a kick to the back of his legs and he folded into a kneeling position. He opened his mouth...
(I'm cruel I know but I love not finishing this sentence. Let's leave it open for interpretation, ok?)
Market Fight Scene
Arthur stopped twirling the mace. 'I warn you, I've been trained to kill since birth.'
That was a funny line. At least, it conjured up an image for Merlin of a baby Arthur, swinging his deadly rattle as he paraded around a playpen in chain-mail nappies.
(The funniest part in the entire book!)
[...]
If he, Merlin, had been free to use magic, then that stupid fight in the street would have been over in seconds.
As Arthur brandished his morning star, it could so easily have been nudged in the direction of the idiot's head. Knocked him out at the start and damaged his brain, if he had one in there.
Talking to the Dragon
Still, Merlin was reminded that Arthur had let him off the hook after their mace fight - and he had acknowledged Merlin's bravery. That was a sign at least that he had some code of honour. Arthur might, he supposed grudgingly, make a much better king than he did a prince. Even if Merlin imagined him likely to be crowned King Prat the First.
Feast
There, waiting just inside the great hall, was Merlin's destiny. Arthur stood messing around with his friends whilst they waited for the feast to begin. Merlin watched them as they laughed and jostled each other. He thought they were behaving like a bunch of prats.
[...]
Arthur barely registered Merlin looking his way. Bad form, he supposed, for a prince to acknowledge someone so lowly. All right to have a go at him with a mace, but heaven forbid Arthur should actually register his presence at a formal occasion.
[...]
'Not that I'd want to be her,' Gwen added. 'Who'd want to marry Arthur?'
'Not me,' agreed Merlin. Briefly he searched around for Arthur. There he was, still larking about and playing at being more important than everyone else. Then Merlin looked again at Morgana. She was so beautiful. Was she really doomed to marry Arthur? The poor girl. Talk about a damsel in distress.
Interesting Note at the end:
It is actually mentioned that Arthur and Merlin, as well as Morgana all seem to have the exact same age. For some reason I always assumed that Morgana was a few years older than the boys and that Merlin was perhaps 1-2 years younger than Arthur. But turns out I was wrong.
Current Mood:

grateful